How To Remove Dip Nails At Home – A Comprehensive Guide
You can now remove dip nails without a salon visit that cuts a hole in your pocket.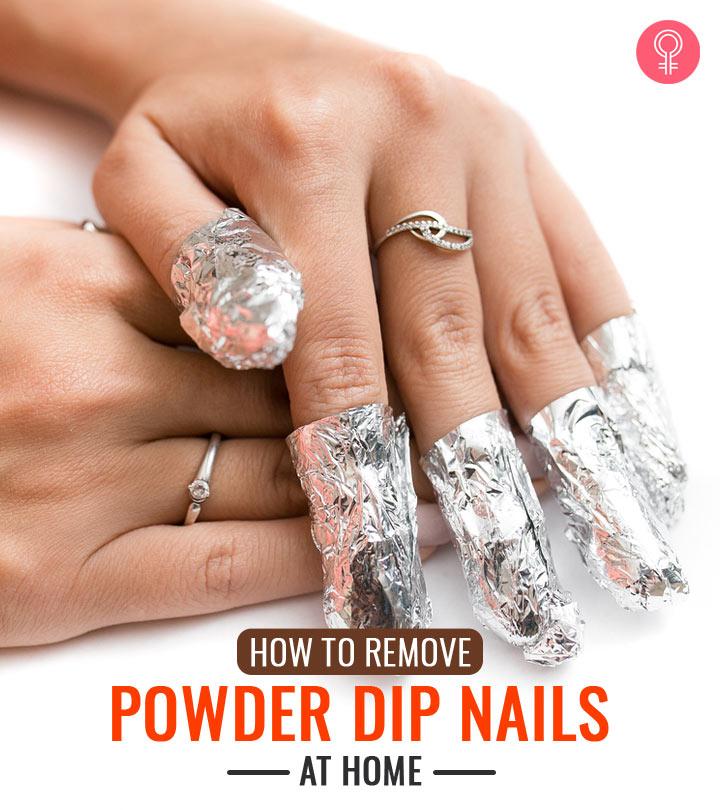 Yes, we know you love the long-lasting chip-proof nails nail dipping powder kits give you. But won't you love them all the more if you knew how to remove dip nails at home rather than taking another trip to the salon?
Several layers of resin and powder form a thick coating on your nails in dip manicures and are not easy to remove. So, people usually end up at the salon to get rid of dip nails. But, what if we told you there are some ways to remove them at home safely without ruining your natural nails, including DIY beauty process for efficient nail removal using home remedies?
This article lists 3 ways to remove a powder dip manicure at home instantly and safely. You will also find the mention of the tools you need for the process, step-by-step instructions, and aftercare advice. Keep scrolling!
Trivia
Nail dipping powder was created by SNS, a renowned nail company, during the 1990s.
Keep In Mind
Things Needed: Aluminum foil, cotton balls or pads, acetone nail polish remover, and a buffer
Precautions: Work in a well-ventilated area to avoid inhaling fumes from the acetone and avoid scraping or picking at the dip powder.
Aftercare Tips: Apply cuticle oil or moisturizer to your nails and surrounding skin to keep them hydrated.
Tools Required For Removing Powder Dip Nails At Home
To remove powder dip nails carefully, you need to keep the following tools handy and know how to use them individually:
Nail file – A nail file will be used to file down the polish top coat.
Nail clipper –This will be used to cut the extra length of your nails and keep them short to make your job easy.
Acetone – You will need to get 100% acetone from a drugstore or retail shop as regular nail polish remover is not effective for removing dip powder manicures.
Cotton balls – Cotton balls will be soaked with acetone to cover your nails.
Paper towels – Paper towels can be used in place of cotton balls if you want to try a different method for removing your dip manicured nails.
Small bowl – This should be filled up with warm water.
Foil – The foil paper should be cut into small square pieces to fit around your nails.
How To Remove Powder Dip Nails With The Foil-Wrap Method
Take off your powder dip manicure quickly at home with the safe foil-wrap method. No hand drill required! This method prevents too much exposure to acetone.
Step 1: Gather all your materials mentioned above.
Step 2: File down the polish.
Buff the top of each nail evenly with a nail file. Keep buffing till only a thin layer of polish is left on your nails.
If you have any nail extensions, make sure you cut them off to your original nail length using a nail clipper.
Step 3: Wrap your nails in acetone-soaked cotton balls and foil.
Cut the foil paper in tiny square shapes so that they wrap around your nails snugly.
Soak a cotton ball in acetone and place it right on top of the nail. Wrap a piece of foil around it.
Leave your nails wrapped this way for at least 10-20 minutes as this will help the powder dip to flake off easily.
Step 4: Remove the foil.
Gently remove the acetone-soaked cotton balls and foils from your nails.
If the polish has not come off, leave the cotton balls and foils on for an additional 5-7 minutes. Make sure you focus on one nail at a time.
Step 5: Buff and nourish.
Once the entire powder dip polish comes off, gently buff the whole surface of your nails. Buffing will give proper shape and texture to your nails. It is preferable that you keep your nails short after this.
Brush away the excess dust.
Step 6: Massage and moisturize your nails.
Your nails lose a lot of moisture throughout the powder dip removal process. After you have successfully removed the powder dip polish, you must moisturize and hydrate your nails with your favorite hand creams and oils.

How To Remove Powder Dip Nails At Home With Acetone
In this method, you will be soaking your nails in pure acetone, so it might cause some skin irritation. If you have sensitive skin, this method is not recommended for you.
Step 1: Use a nail file to buff away the top coat of your nails.
Step 2: Take a bowl and fill it with hot water. Make sure that the water is not so hot that you can't dip your fingers in it. Just heat it up for a minute or so in the microwave.
Step 3: Place two smaller bowls inside the hot water bowl. You should be able to dip all your fingertips into the small bowls.
Step 4: Soak some paper towels in acetone. You should have enough paper towels to be able to soak all your nails in the bowls. Make sure they are not dripping with acetone, but are adequately soaked. Place the acetone-soaked paper towels in the two smaller bowls.
Step 5: Soak your nails in the acetone-soaked paper towels. Let them soak for at least 10-15 minutes as this will help remove the powder and adhesive coating from your nails.
Step 6: Use the paper towels to wipe off the remaining powder polish or push off the remaining polish with a cuticle pusher. If there is any residual powder left, you can remove it with your nail file.
Note: Never warm acetone in the microwave or on the stove. It is highly flammable and may explode when heated.
How To Remove Dip Powder Nails At Home Without Acetone
If you want to learn how to remove dip powder nails off without acetone, you can try out the following hack:
Step 1: Take a small bowl filled with warm water and soap.
Step 2: Dip your fingertips in the bowl for 15-20 minutes.
Step 3: File down the powder polish on your nails using a nail file.
Step 4: Use a cuticle pusher to slowly pull off the edges of the polish.
Step 5: Once the false nails come out, use a nail clipper to cut your nails short.
Step 6: Use a nail buffer to buff your nails.
Step 7: Finally, apply a good cuticle oil or serum to moisturize and hydrate your nails.
Note: Nail experts do not recommend removing dip nails at home, as improper removal techniques can seriously damage the nail bed. Therefore, it's best to get them professionally removed at a salon.
Now that your powder dip nails are off, here's what you need to do to nurse them back to health.
Powder Dip Nail Removal – Aftercare
The procedure of removing your powder dip nails can dry out your nails as acetone is very drying. After the nail removal process is complete, apply some cuticle oil, cuticle serum, heavy lotion, or moisturizing hand cream to nourish and moisturize your nails and cuticles.
Many aftercare products are available on the market to take proper nail care, including cuticles. Invest in products like Essie's Apricot Cuticle Oil and Sally Hansen's Hard As Nails Strengthener. These products will keep your nails healthy and hydrated and are worth a try.
Nail professionals recommend taking a break of 1-2 weeks between powder dip manicures to strengthen your nails.

StyleCraze Says
To strengthen your nails after removing the nail dipping powder, drink lots of water and take vitamin supplements containing biotin (
1
). You can also apply a nail strengthener for some extra support.
With these easy hacks, you don't need to worry about shelling out money at a nail salon just to get your powder dip nails removed. Just make sure that you follow these procedures carefully and follow them up with nourishing your nails back to health.
Infographic: Remove Dip Powder Nails In 6 Easy Steps
Removing dip nails is complicated, but do not worry, as we have got you covered! We have created an easy and simple stepwise tutorial to show you how to remove dip polish in a hassle-free manner in six easy steps. Scroll down and check out the infographic below to learn more!

You do not need to spend money at the salon anymore to remove your powder dip nails. There are many methods to remove them at home safely. With these easy hacks, you can easily take off powder dip manicures at home. However, you need to follow some aftercare tips to keep your nails healthy and prevent damage. For instance, using cuticle oils and serums may help moisturize and nourish your nails. Hence, make sure that you follow these simple procedures to remove powder dip nails easily and also follow the listed aftercare tips to maintain healthy nails.
Frequently Asked Questions
How does rice remove dip nails?
The rice baggie method of removing dip nails may help remove dip nails quickly by allowing the heat from warmed-up rice to react with acetone. The process involves warming up uncooked rice grains, placing a ziplock bag on the bowl of rice, and adding paper towels soaked in acetone inside it so that the paper towel and the rice are separated by plastic but can exchange heat. You need to put your hands in the zip lock bag and rub your dip nails on the paper towel till the indirectly warmed-up acetone loosens up the dip nail polish and gets it off your nails.
Can you steam off dip nails?
You may use a steam machine for removing dip nails, but it is neither a popular nor a very effective method. The best way is to use acetone.
Can you use nail polish remover on dip powder nails?
Dip powder nails are very durable and cannot be removed by using nail polish remover alone.
During a dip manicure process, you dip your nails in a powder pot, which are then sealed with a topcoat. Once the powder dries up, you are free to apply any kind of designs or embellishments on top of it. The process of applying acrylic nails is quite long. First, your nails get sized with plastic nail extensions and positioned to the tip of your nail bed. Then, extensions are applied with glue. When they dry, the nail artist fills in the spaces between your natural nail and the artificial nail with a liquid mix. Lastly, a nail drill buffs the nails and makes them smooth. Finally, your nails get painted and finished off with a top coat.
Professionals say that dip powder manicures are a much safer option than gel acrylics.
Key Takeaways
You can easily remove powder dip nails in the comfort of your home.
It can be removed with acetone, without acetone, or using the foil-wrap method.
If you have sensitive skin, it is better not to remove it with acetone.
Take a break of 1-2 weeks between powder dip manicures to maintain the strength of your nails.

Learn the fastest and easiest way to remove dip powder nails without an e-file or drill! The video tutorial below shows you how. Watch it now!

Sources
Articles on StyleCraze are backed by verified information from peer-reviewed and academic research papers, reputed organizations, research institutions, and medical associations to ensure accuracy and relevance. Read our editorial policy to learn more.
A Review of the Use of Biotin for Hair Loss
https://www.ncbi.nlm.nih.gov/pmc/articles/PMC5582478/